Discover more from Drawing Capital Research
Weekly insights on financial markets, the innovation economy, and trending investment themes.
Automation: The Unemployment Boogie Man
Weekly updates on the innovation economy.
Drawing Capital Newsletter
October 23, 2020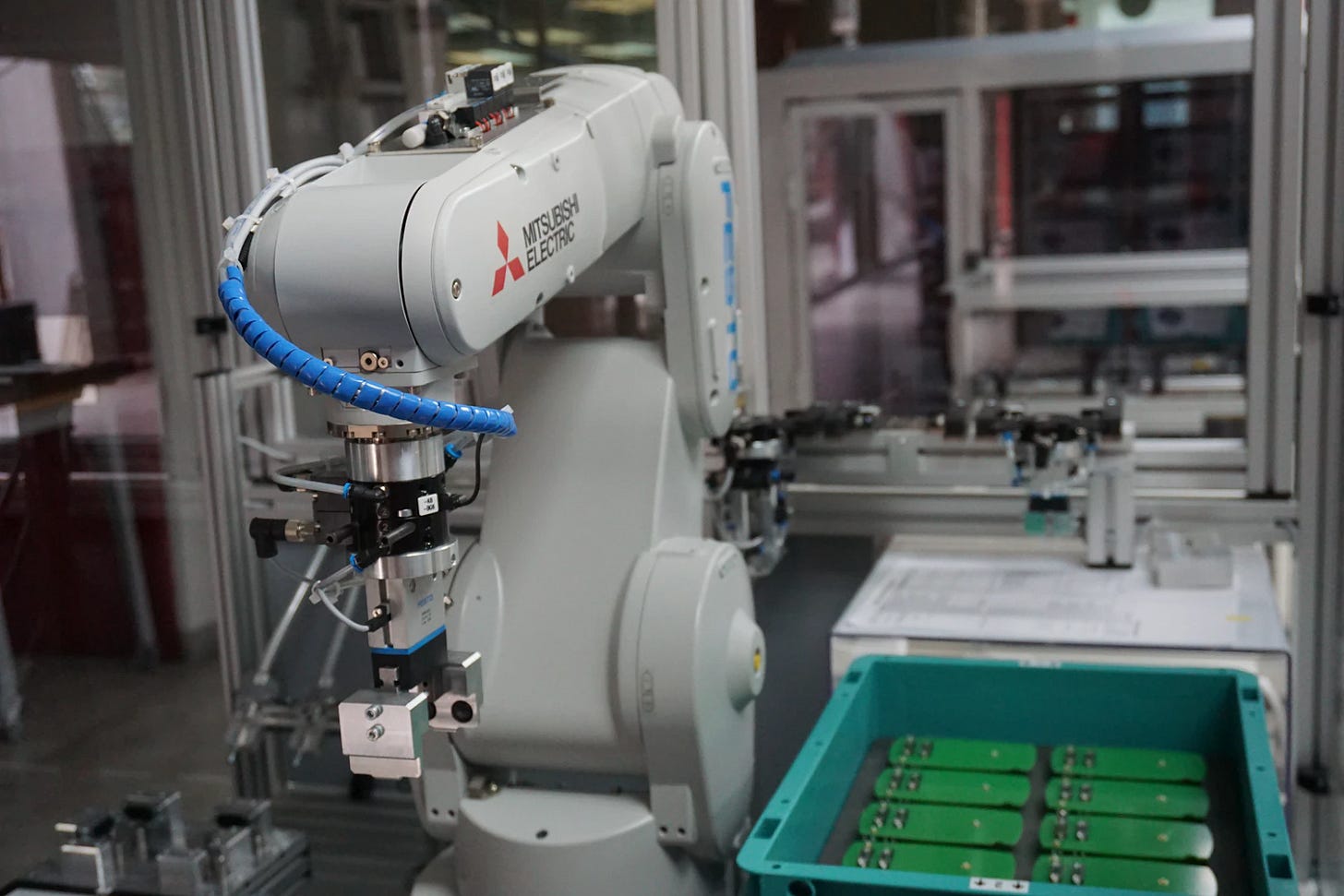 Automation and technological efficiency have given rise to some of the greatest advancements in human processes and productivity. They create opportunities for new businesses and enhance the output of existing sectors. They also put millions of jobs at risk - an issue so prevalent it was at the forefront of Andrew Yang's recent Presidential campaign. 
Robotics Landscape
As with any technology, the rise of robotics leaves a few industries particularly susceptible. An article from MIT economist and Professor Daron Acemoglu in May 2020 found that adding one robot replaces about 3.3 jobs, and four manufacturing industries account for 70% of the use of robots (2).
The four manufacturing industries are automotive, electronics, metals, and plastics & chemicals.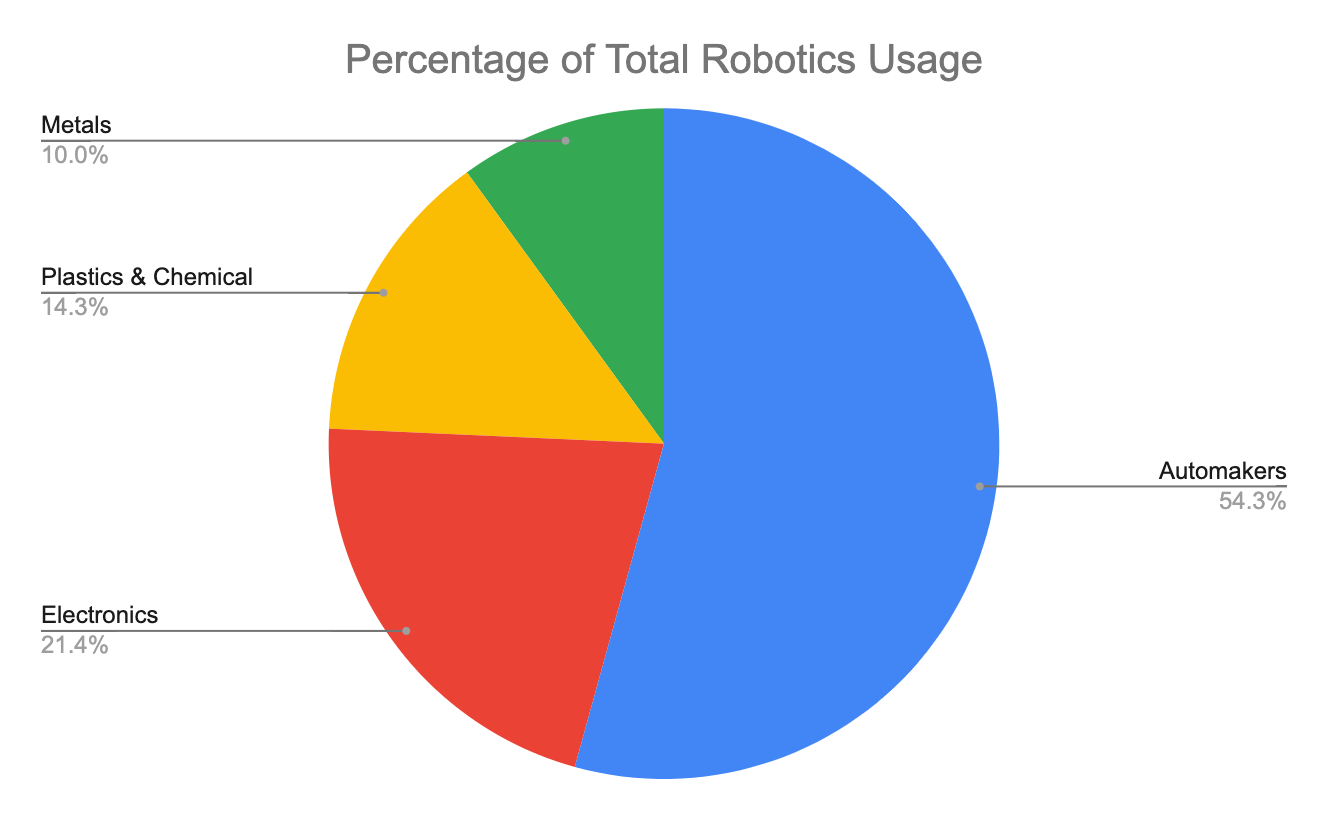 While the displacement of jobs will become an issue over the next few decades, our estimations suggest that the headlines exaggerate the short-term impact and adoption of these new technologies. 
As of September 2020, the Bureau of Labor Statistics estimates that manufacturing in the U.S. currently accounts for 12.2 million jobs, or about 8.3% of the total U.S. workforce (5).

MIT cited that in 722 commuting work zones in the U.S., each robot replaced about 6.6 jobs locally. After accounting for the job creation related to robots, the net job loss associated with adding an additional robot is estimated in the MIT research study to be a ratio of about 1 robot replacing 3.3 workers (2).

A recent report from World Robotics indicated that the annual installation of industrial robot systems in the U.S. was 33,300 for 2019. This represents a slowdown of 17% from 2018 (6).

Based on the 1 robot to 6.6 jobs figure from MIT above, U.S. manufacturers need to purchase and install roughly 1.85 million units to replicate the existing workforce in its entirety. This is in addition to altering supply chain operations, training staff, and hiring experts to implement and maintain further automation.

In the largest market for robotics - automakers - gross margins are already thin at 15.8% as of Q2 2020. 
While manufacturing jobs in the U.S. are being affected at a lower rate, China is pioneering the use of these machines and leveraging their output on a completely different scale. Globally, China represents about 36% of the robotics market, according to Deloitte (7), and grew at a rate of 21% in 2019.
In 2019, China installed 140,500 industrial robots versus the 33,300 installed in the U.S (6).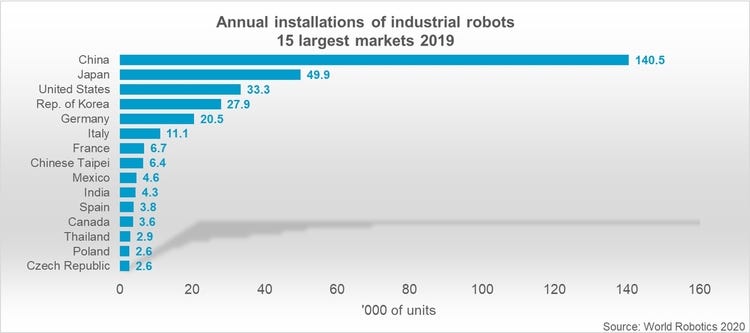 Examples of Large Robotics Companies
Several of the largest companies in robotics include: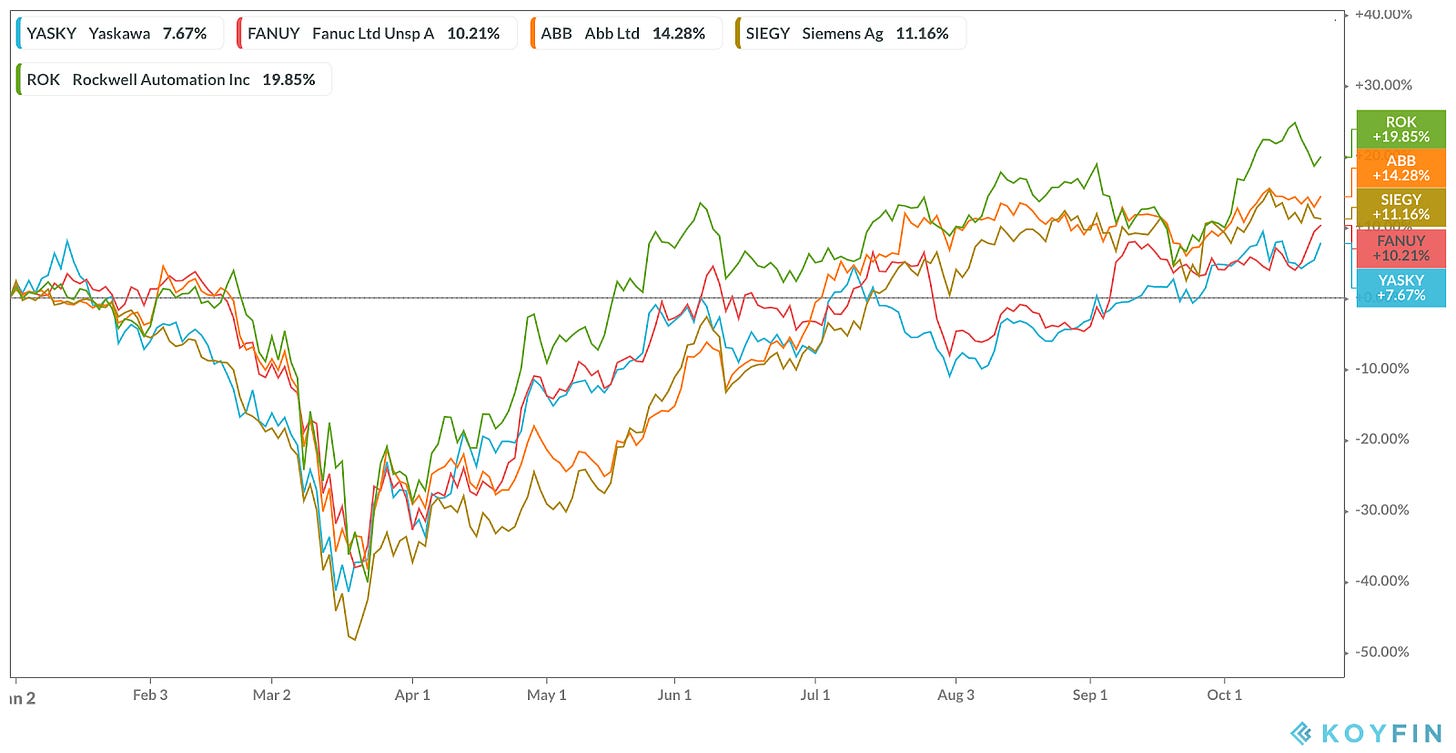 Performance of Robotics-based ETFs vs. the S&P 500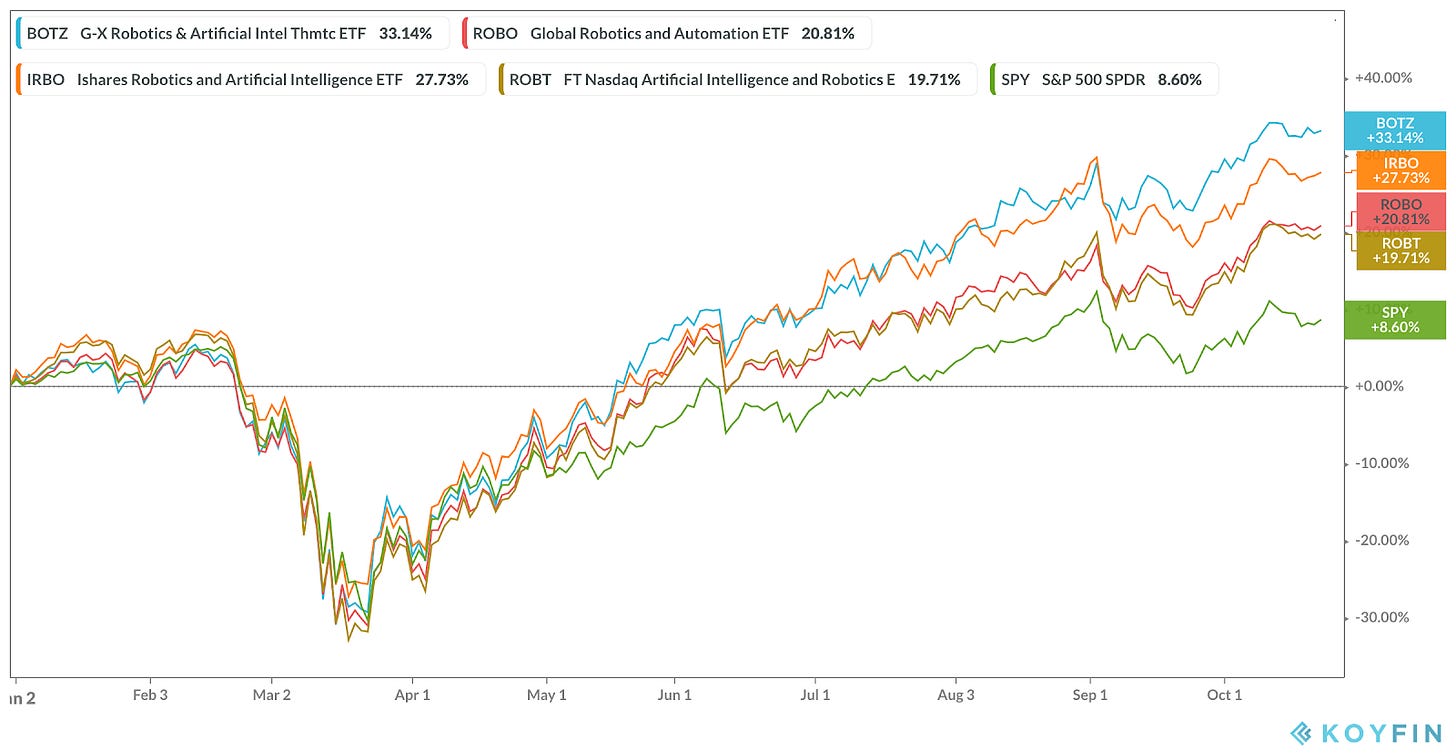 Possible Ideas to Alleviate the Job Losses from the Rise in Automation & Robotics:
Job retraining to include specializations with automation

Education such as Lambda School to assist in specialization for robotics and automation management

Reduction in average work hours per individual

Universal basic income

Increases in public-private partnerships

Expansion of government employment opportunities through public works and infrastructure projects

Providing inspiration to people to work on some of humanity's hardest challenges, such as basic research, eradication of viral diseases, ending world hunger, space travel, financial inclusion, climate decarbonization initiatives, and more 
Conclusion
Globally, we view robotics and automation as an appealing investment theme, with the greatest adoption occurring in Asia, and core production occurring in Japan and Europe. However, based on the current rate of adoption in the United States, we do not foresee the use of robotic automation eradicating manufacturing jobs for decades. That is, of course, subject to the advances in the functionality and versatility of automation solutions, combined with the regulatory acceptance and effectiveness of cost decline. Together, these could move the timeline forward more quickly than anticipated, and drive adoption by manufacturers domestically and internationally.

---
References
TIME Magazine. "Machines and AI Are Taking Over Jobs Lost to Coronavirus". https://time.com/5876604/machines-jobs-coronavirus/. Accessed 22 Oct. 2020.

MIT News. "How many jobs do robots really replace?". https://news.mit.edu/2020/how-many-jobs-robots-replace-0504. Accessed 22 Oct. 2020. 

"Why Are There Still So Many Jobs? The History and Future of Workplace Automation." https://economics.mit.edu/files/11563. Accessed 22 Oct. 2020. 

"A New Wrinkle And Danger In How Automation Will Obsolete Jobs." https://www.forbes.com/sites/eriksherman/2020/01/30/income-inquality-automation-ai-global-competition/#6f99dc6b28a0. Accessed 22 Oct. 2020. 

"Current Employment Statistics Highlights September 2020." https://www.bls.gov/web/empsit/ceshighlights.pdf. Accessed 22 Oct. 2020.

"IFR presents World Robotics Report 2020." https://ifr.org/ifr-press-releases/news/record-2.7-million-robots-work-in-factories-around-the-globe. Accessed 22 Oct. 2020. 

"Professional services robots and the robotics market." https://www2.deloitte.com/us/en/insights/industry/technology/technology-media-and-telecom-predictions/2020/professional-service-robots.html. Accessed 22 Oct. 2020.
---
This letter may not be reproduced in whole or in part without the express consent of Drawing Capital Group, LLC ("Drawing Capital"). 
This letter is not an offer to sell securities of any investment fund or a solicitation of offers to buy any such securities. An investment in any strategy, including the strategy described herein, involves a high degree of risk.  Past performance of these strategies is not necessarily indicative of future results.  There is the possibility of loss and all investment involves risk including the loss of principal.  
The information in this letter was prepared by Drawing Capital and is believed by the Drawing Capital to be reliable and has been obtained from sources believed to be reliable. Drawing Capital makes no representation as to the accuracy or completeness of such information. Opinions, estimates and projections in this letter constitute the current judgment of Drawing Capital and are subject to change without notice.  
Any projections, forecasts and estimates contained in this document are necessarily speculative in nature and are based upon certain assumptions. In addition, matters they describe are subject to known (and unknown) risks, uncertainties and other unpredictable factors, many of which are beyond Drawing Capital's control.  No representations or warranties are made as to the accuracy of such forward-looking statements. It can be expected that some or all of such forward-looking assumptions will not materialize or will vary significantly from actual results.  Drawing Capital has no obligation to update, modify or amend this letter or to otherwise notify a reader thereof in the event that any matter stated herein, or any opinion, projection, forecast or estimate set forth herein, changes or subsequently becomes inaccurate.